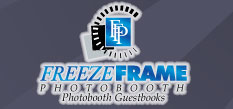 FreezeFrame Photobooth Favors
Here's a unique item that acts as both a place card AND a gift for your guests. Freeze Frame Favors are acrylic frames made specifically for Freeze Frame Photobooth photos. They begin the evening as place cards, and your guests can insert their photobooth photos into the frame to create a thoughtful, personalized memento of your special day.

Contact us today to learn more. The Photobooth will be the talk of the night. Your Freeze Frame Favors will be thoughtful, personalized gifts cherished for years to come.






"DJ Juan was super fun, great to work with, very enthusiastic, and easy to reach. I picked my wedding procession song at 12:30am the night before the wedding and he had it ready for me. He knew exactly what to do to run the wedding, queue the speeches, announce the day's events. DJ Juan was super attentive and skilled at keeping the dance floor filled with people. I couldn't have been more happy."
Watch us on

!