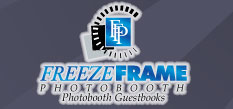 FreezeFrame Photobooth Favors
Here's a unique item that acts as both a place card AND a gift for your guests. Freeze Frame Favors are acrylic frames made specifically for Freeze Frame Photobooth photos. They begin the evening as place cards, and your guests can insert their photobooth photos into the frame to create a thoughtful, personalized memento of your special day.

Contact us today to learn more. The Photobooth will be the talk of the night. Your Freeze Frame Favors will be thoughtful, personalized gifts cherished for years to come.






"Memory Makers is the way to go for your entertainment! I am sure that all of the DJs at Memory Makers are great, but you must ask for Mike! My new husband was a DJ years ago, so you can imagine how high his expectations were for our wedding DJ. Mike was super fantastic. He worked with us to create a customized play list. We didn't have to do anything, just request it and he made it happen. On our day he had everyone's attention and kept the place rockin'! He even got out there and danced with us! He was great and I recommend them and their services for a fantastic reception! They also created dramatic lighting for our reception. It was unbelievably gorgeous. Make sure to add the lighting to your entertainment package."
Watch us on

!