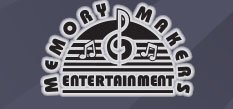 Hear, See, & Read About Our DJ's
Our DJ's train for two years as an assistant before getting a mic of their own, and each have at least five years industry experience. We recently recorded mock bridal party introductions at one of our DJ Showcases. You can see and hear those samples by clicking on the samples below:


Andres Acevedo


Andre has been with us since early 2005 and adds a spark to our team. His knowledge of music and raw confidence has made him a crowd favorite. Andres brings his unique style to every event. He provides a energetic professional performance that brings the party to life. Andre is also a bi-lingual DJ.

Dave Woll


Dave Woll established Memory Makers DJ Service in 1994 after graduating from Western Illinois University with a degree in broadcasting. Memory Makers became a full time endeavor for Dave in 1996 due to Memory Makers' growing success. Dave continues to entertain at weddings, parties, and events (and has a blast).

Juan Acevedo


Juan Acevedo "DJ Nine Juan One" has been entertaining crowds across Lake County since 1994. Juan is one of the area's most popular DJs. He is a crowd favorite with a perfect blend of personality and professionalism. He is charismatic and his performance is second to none. He specializes in multi cultural events and is bi-lingual. Juan works full time as a 911 dispatcher for the Lake County Sheriff.

Rod Stare


Rod "the bod" Stare has been a DJ since 1993. He came to us in 2003 and rocked the house until 2010 when he took a break to focus on school and family. Rod holds 2 Master Degrees, including an MBA and finishing a 3rd Master degree next year, Rod truly DJs because he loves doing it and loves being a part of one of the biggest days in your lives. This is his first showcase back with us since 2010 and he's back and ready to rock!

Tom Wells


Tom Wells has entertained at hundreds of weddings since 1995 and is one of Lake County's most sought after DJ's. He always strives to make each party different and personalized. He is high-energy and ready to entertain at your event.
"Mike and I love Memory Makers!!!! Having a great DJ is one of the most important parts of a wedding. This company is phenomenal. We went to a DJ Showcase where they performed mock introductions and we got to pick the DJ we wanted. After picking our fabulous DJ (Greg), we appreciated the helpful event planner packet provided by Memory Makers. We sorta had a Chicago Cubs themed wedding and we had blue and red lights for our uplighting. It looked very sharp in our wedding photos andas added more energy to our reception. We also rented the photobooth for four hours. Our guests had a blast! The best part of the photobooth was that we had a personal photobooth technician that put together a guest book that everyone signed after taking their photos. The photobooth technician (Randy) put everything together for us and at the end of the night we had a complete guestbook. We really enjoyed the personalized touch of the guest book and found it to be way better than the boring original guestbooks that people have where you just sign your name."
Watch us on

!