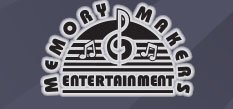 Make a Payment Online
To make a payment online, please press the "buy now" button below. On the next screen, you will be able to enter the amount you wish to pay and then make a payment using any credit card via Paypal:






"Mike and I love Memory Makers!!!! Having a great DJ is one of the most important parts of a wedding. This company is phenomenal. We went to a DJ Showcase where they performed mock introductions and we got to pick the DJ we wanted. After picking our fabulous DJ (Greg), we appreciated the helpful event planner packet provided by Memory Makers. We sorta had a Chicago Cubs themed wedding and we had blue and red lights for our uplighting. It looked very sharp in our wedding photos andas added more energy to our reception. We also rented the photobooth for four hours. Our guests had a blast! The best part of the photobooth was that we had a personal photobooth technician that put together a guest book that everyone signed after taking their photos. The photobooth technician (Randy) put everything together for us and at the end of the night we had a complete guestbook. We really enjoyed the personalized touch of the guest book and found it to be way better than the boring original guestbooks that people have where you just sign your name."
Watch us on

!